*Note: The pics from Brad's post are fixed! Check back to that one to see the illustrious fish he was hanging out with on the daily. 
*A reminder that you can subscribe to the blog & that way you'll be notified by e-mail when I update.
We've already been away for a month, and my parent's visit went by all too quickly. They went home last Friday after a great three weeks, and a newborn grandson to meet!   
Here's a few more pictures to wrap up the Cook Islands… I can't resist writing a bit more about this curious place even if time is going more quickly than I can write. We are leaving our fourth locale in New Zealand tomorrow! Headed to Auckland from Paihia in the Bay of Islands.
Brad and I attempted cycling one day. Then we rented a scooter. Ha. There is one main road that circles the exterior of the Island, and although beautiful with the ocean always on one side of you, it was also just far too hot to do such a thing at the time we got started. The tree above me in that photo is a "flame tree"– the unanimous favourite! By the end of our trip, we used every transportation possible on the Island: with my parents, bussing and a car rental for 3 days, and our scooter rental overlapped with their arrival as well.
The busses are simply 2 options: the clockwise bus, and the anti-clockwise.  Makes things fairly simple: you just stand on the side of the road and wave your arm if you want to catch it.  If you end up catching the wrong bus, you're still going to pass where you're headed anyway!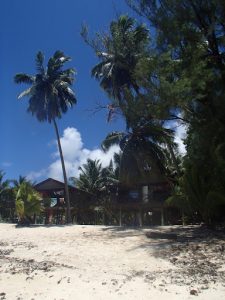 Our place: this was our beachfront stilt accommodation in the Cook Islands. A great place to call home… the darkness at night was incredible, and fishing boats would come out in a group with beams of light spanning the ocean. It felt straight out of the X-Files!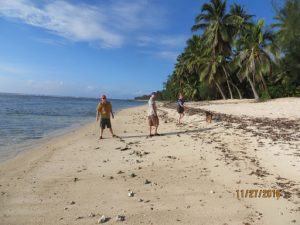 Many of the South Pacific Islands have a "dog problem"- a lack of spaying/neutering and too many dogs on the Island! It was fairly well controlled, but the dogs were of a different culture than up home- rarely on a leash, they would amicably sidle up to a tourist and take them to their destination. Our dog escort this day (on the right)
stuck with us for about 3 hours as we arrived at a restaurant, ate, and then were walked home. Hilarious.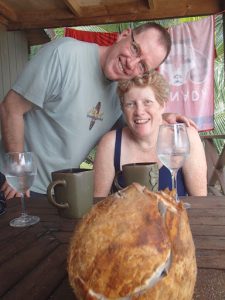 Dad cracked a coconut with a rock for breakfast, and claimed that that is what they used to eat fresh coconut in Bowsman, MB back in the day. I still dont know what mom put in his coffee.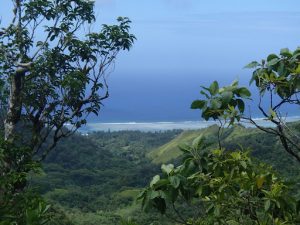 Brad and I did a "cross island trek" which (guess what) spanned the island of Rarotonga. My preferred word for it was treacherous (some serious uphill, climbing up using tree roots as leverage); brads was "gruelling". We were quite proud of ourselves once the 4 hours were complete!