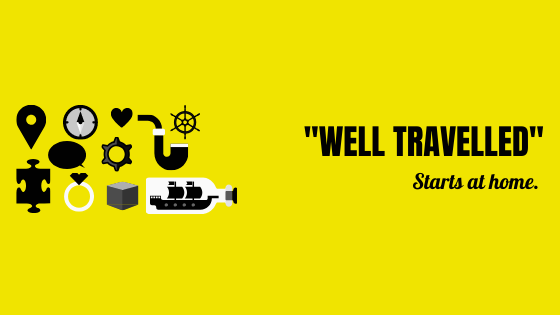 Technology on Long Trips
On Travelling Minds, technology and travel comes up pretty often. Danya and I talked about how much changed since she first left home 11 years previous: it's great to find your way around with ease using a smartphone, but her first trips were memorable because of countless hours playing crib with her travel mates. As Danya said at one point, "How many wrong turns have I missed out on?"
Ryan, who cycled across Europe placed an importance on "keeping your head up." That was one of the things he loved about cycling: that it meant he had to have his hands on the handlebars, and his head up. If he saw something he wanted to stop for, he would stop. If not, stay the course.
I've noticed that on long term trips, I can more easily shift my relationship to technology. It moves me more towards books and journals, as it also did for Daria and Rob who read the entire Harry Potter series to their 5 & 8-year-old while island hopping in New Zealand, Australia and the South Pacific.
DIY Digital Vacations
I know- we don't all have time for a year or a month away. What if you created a digital vacation for yourself, all the while living your 'normal' life? We aren't talking depravity here: we're talking about putting something in that replaces a few hours (or even minutes) where you'd normally be idle on your phone, watching tv, or scrolling reddit.
Here are some ideas:
When you go for a walk, turn your phone on airplane mode or leave it at home.
Think of that hobby you've always wanted to start, and START IT! Either sign up for a course in it, or do a DIY version of your own.
Swap out types of technology: replace TV with podcasts, or audiobooks (yeah, I'm biased). Delete some of the more addictive apps from your cell phone.
Try leaving the phone outside your bedroom before bed, and reading a book.
Cook a decadent meal, with your favourite music on and no time restrictions. One of my favourite cooking podcasts is Cooking by ear, where you make the dish in real time with a chef and a guest, just having conversation.
While you're at it, why not add something to look forward to at the end, like a real vacation? Perhaps on that vacation, you'll be in better health, have more fun, or more inspired by the trip. The sky's the limit.
Related Posts
A whole lot of first drafts (and first tries). First feed, first diaper, first whatever… some days will come easy, and some days will be awkward. But once you get…
Read More