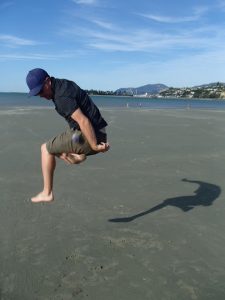 Brad executing a textbook 'Super jester' with the hackey sack
After a good dozen days in the sunshine, we are cooped up in stormy Greymouth, on the Wild West Coast of New Zealand's South Island! The West Coast of New Zealand is known for it's rainy weather, but also it's gorgeous sights. Yesterday, we went to Pancake Rocks, where the water has caused both a funny stack of pancake rock texture, but also crashing waves that create quite the dramatic holes in the formations, causing there to be blowholes spewing water!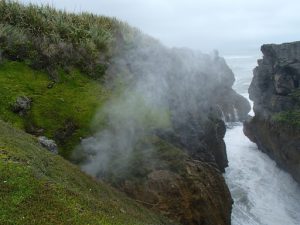 Not geothermal steam this time… you can see the splash spouting out of the left side as a product of the pressure from the waves funnelled in on the right.
We stopped by there yesterday, with a Maori named Jason who had picked us up hitching. Originally he was going to drop us partway to our destination, but we got along well and so it turned into a 6 hour sightseeing trip & a drop off right at our hostel! A really fortunate thing, since a storm has hit here and we wouldn't likely be able to see a thing today or tomorrow- the rest of our stay here.  They say 25 mililitres of water per hour for the next 5 hours.
We may foray into the wet to get some chips (priorities, people) and if we're feeling mighty adventurous may check out the local brewery tour or something. If not, we've picked up many hobbies that entertain us as we go… drawing, ukulele playing, there's a piano for Brad at this hostel, hackey sack, stocking the coal stove, playing crib, journals, reading and the like. May even refresh my memory on how to play rummy.
Or, catch up on the blog!
Last week, we spend 5 days 'tramping' the Abel Tasman.  New Zealand has 9 'Great Walks' which are endorsed as the best in the country and Abel Tasman is one of them.  The country has 900 huts of varying qualities, some historic, some newer with amenities like a cold outdoor shower.  The huts are typically bunk beds, but could be one long bunk bed with 7 to 10 mattresses side by side on each level.  They have a cooking surface, but you bring your own cook stove and pots/pans.  Most of the time there is also clean drinking water, and on the great walks, there's a Ranger that will stop by daily.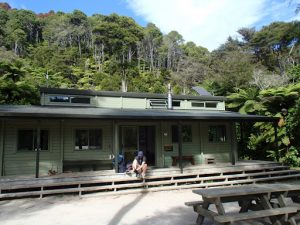 Brad making sure his feet are pristine for the days hike. Bark Bay hut.
The Great Walks huts sell out quickly, so we actually booked this in May 2016 when the Department of Conservation opened it up!  The Abel Tasman Coastline Trek was sunny, beachy, and "cruisy" as locals refer to it.  The first morning, there was a pod of dolphins that passed 50 feet from the beach! There are freshwater pools dotting the trek, a treat to jump in during the 60 km 5 day hike.  You get to know the group of people on the same hut route fairly well- the spaces are all shared, and you should always get to know your bedfellows.  We found it to be a very social experience, and hilarious when one night we landed up sharing one long bunk with a family of 11 kiwis on holiday!
There were also estuary crossings, where you have to wait until low tide to wade through what would otherwise be ocean and continue the trek. Our fourth day, the estuary crossing was late in the day, so instead of starting a 16 km day in the mid-day heat, we toyed with the crazy idea of starting our day in the midnight moonlight.  Checked with the Ranger if there's any issues, to a response of "You're good as gold".  Tally ho!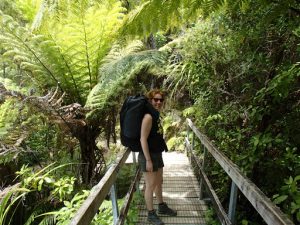 Propping up the pack on the side of a bridge = pure joy!
So we crept out into a starry night and had one of our best hiking experiences in our lives.  We started at 1:30 in the morning to the sound of variable oyster catchers (type of bird) in the distance, the moon and stars lighting the estuary crossing, the Southern Cross (Southern Hemisphere's version of the North Star) clearly seen, as well as Te Manu Rore (The Bird Snare), which we call Orion's Belt, but here the belt is a bird perch, and the sword of Orion, a bird snare.  The bird sitting on the perch is treasured here, a Kereru or NZ Wood Pigeon.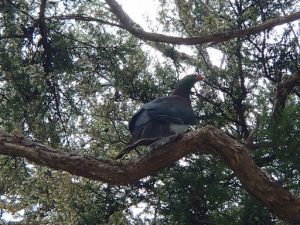 Kereru
Trails lined with glow worms, disorientation on the beaches (we couldn't see the trail markers without being very close to them), a gradual brightening & watching the sunrise from a hillside, followed by deafening birdsong at dawn.  Emerging on our last beach, the sandflies seemed to have woken up as well, so we were well motivated to keep on even if we were a little sleepy.  We arrived at the hut at 8 am to put breakfast together and nap til noon.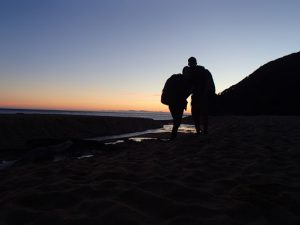 Emerging on a beach at sunrise

 
After the hike, we spent a week at hostels in the region, checking things out. This and that: explored a few towns/cities, hit up a fantastic Karaoke night, day tripped and watched "The Hustler" with Paul Newman at an outdoor viewing, started up playing hackey sack once again. Good times & more to come!
View from a Brad: It's legal to urinate on the back left tire of a car here. Apparently, it has to be your car.