People say to me: "How was New Zealand and the Cook Islands?" I find it hard to answer as this was a hard trip to sum up. We covered a lot of ground in 18 days. Plus I'm mindful of how fortunate we are to be able to do these kinds of things – let alone with adult children who can pay their own way!

You might already know that there are 17,000 living on the Cook Islands, mostly on Rarotonga where we were, but 70,000 work/live in New Zealand. Most are of Maori descent, same as for almost all the other island countries in the region. This results in a healthy standard of living, better than you see in the Caribbean and a familiar english speaking environment. Cook Islanders are pretty connected to New Zealand, its former colonial parent. The weather is 80-80-80 as in Temp-Humidity-AverageNapLength. Note the hammocks to hut ratio in this photo.
New Zealand in December on the other hand is like Manitoba in May but with better scenery and bathrooms. Tourism recently surpassed Dairy as the number one industry, and New Zealanders really look after you with superior service and friendliness. I think the bathroom index says a lot about a country. My favourite was at the Cathedral Arch as it included a picture window for viewing from the potty.

 
Here's a few other themes to wrap your head around.

Freedom – These are parliamentary democracies and the police don't seem overworked but nothing says freedom like owning a scooter in Rarotonga where it takes 45 minutes to circle the entire island at the top speed of 50 km/hr. The elation I felt when Brad picked me up from my long walk to a distant beach was genuine. It was like being able to engage Warp 9 on Star Trek to get to a new galaxy!
The scooter seemed core to independence for locals. Without one you walk, ride in a truck box or take the clockwise/anti-clockwise bus. With one, you are cool and free – sort of like owning a Camaro in 1978.
Eat Local – Forget about eating potatoes in February or cucumbers grown in a greenhouse near Steinbach to meet your impossible 100 mile diet resolution. In Rarotonga you got fish (no, we didn't eat those nice coloured once in Brad's photos) fruit grown in people's yards and selected vegetables in row crop abundance. Scraps were collected in a separate bin and no doubt fed to the pig tied to the step next door.

If you unwisely wanted something imported from afar, be prepared to fork over some coin like our $16 celery or $20 wine. In NZ, it was kiwi (the fruit not the bird) avocado, strawberries and of course beef and lamb.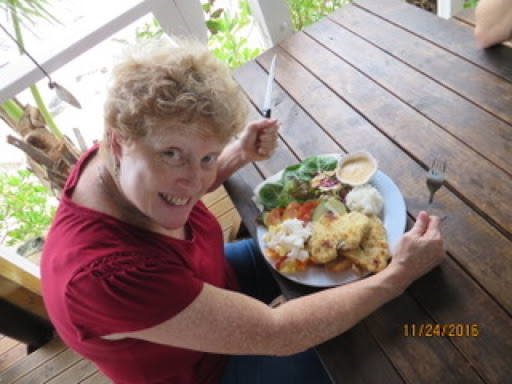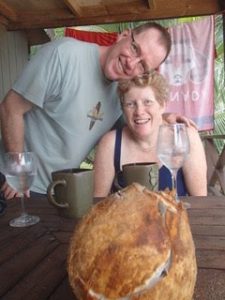 Backpackers/Tramping – These places really make you appreciate just how many affluent young people are wandering around the world aimlessly, sleeping in $30 accommodations and being rewarded with memorable experiences like this hot spring swimming hole that wasn't in the guidebooks. We were impressed by the willingness of everyone to tramp long distances – well beyond our 4.6 km limit. Photos I don't have would liked to get would include the three 20 year old girls with sandals and cel phones but no water, backpack or any other apparent preparation for the 90 minute roundtrip to the Cathedral Arch (see prior blogpost from Libby). Or the kid from Wyoming, who had bought a decrepit minivan, stuck a mattress in it and seemed equipped for everything. When we returned from our dip in Kerosene, he sold Brad a beer (which we all helped drink) and gave him the tip to buy a car on the South Island and sell it on the North Island as most people work the other way, creating premium prices in the north. Ooh the life skills…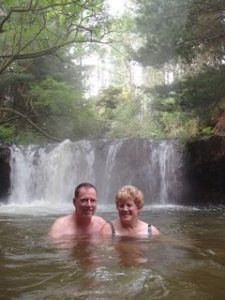 Kerosene Creek- a Natural Hot Spring
Unbelievable sights – Yeah, yeah we get it – it's pretty there. Nope, the photos don't reflect the multiplicity and uniqueness of what you can see, especially in New Zealand. (See other blogposts) We stayed 4 days in our first stop in New Zealand and didn't see it all, so you really do need a couple months to do it right. Check out the Christmas Tree that blooms in December, Hot Water Beach where you can make a personal hot tub in the sand and food being cooked in a geothermal pool in a Maori village (We had corn on the cob!). Seeing Kiwis (the birds) in the dark at a sanctuary was a unique experience, but not a great photo op.
Family Time – 

Lastly, we were constantly reminded of family back home, especially in the context of camping. The beach life reminded us of Blue Lake and specific situations made us think of what we had left behind.

 
Spending 18 days in the same living space as Libby and Brad was a special treat as we explored, reflected and dodged oncoming traffic together. An old travelling axiom (cleaned up to a G rating) goes something like this: If you don't know who the most irritating person in a group is, chances are it is you 🙂
Thanks to all of you who enquired about our adventure.