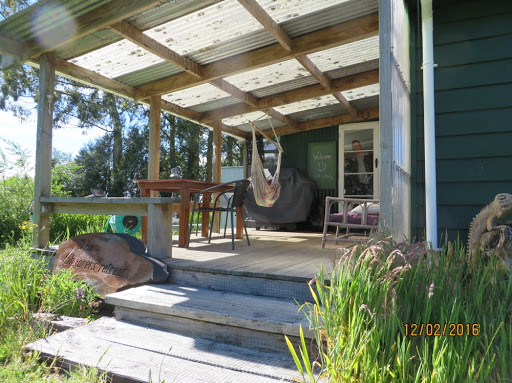 We've spent the first few weeks on Aotearoa (Which is what the Maori call NZ, it means "land of the long white cloud") visiting the North Island. Our first accommodation is pictured above, and was a farmstead just outside Rotorua, a hub for tourism but also geothermal activity!
Rotorua, NZ
You see steam coming out of geothermal lakes in Rotorua, but also out of people's fences, backyards and who knows where else! It smells terrible once you're near them. The geothermal activity means that the earth can change and have a scalding hot pool (oftentimes boiling and bubbling) open up. They have a park in the centre of town with these types of ponds in them. We visited a local Maori village that lives among the pools, bathing in them early in the morning when the bathing area is at it's coolest (hot but not scalding). They don't use soap or shampoo, the waters are cleansing! There are also several communal "hangi"s used which are like communal underground crock pots.
We Hikesalot, NZ
As soon as we arrived in New Zealand, we were on the hiking trails! One particularly awesome hike was out to Cathedral Cove- quite an amazing setting with a great beach (picture below), but there were also hikes that took us out to viewpoints up high, into a kilometre long tunnel, to a square 1000 year old kauri tree, and to a viewpoint where you can see white water rafters take a nasty but highly entertaining plunge. By the time my parents left, we had done 6 hikes in 9 days. The trend has continued… we may end up hiking the infamous Tongariro Crossing this week (featured in the Lord of the Rings). The determining factor will be weather since it's very mountainous and can get very cold, and courage since it's 19.4 km!
Paihia & Russell, NZ
Paihia is in the Bay of Islands which is North of Auckland. After my parents went on their way to the big silver space and time traveller, Brad and I got on the bus for a few hours drive North. The Bay of Islands is known for it's dolphin trips, hole in the rock tours, and fishing for marlins etc. We did none of that!
Sometimes you're just not in the mood for the biggest attractions, so we were drawn to a 6$ burger and fries deal, a trip to Russell (we missed them already…) and mountain biking in the region. It was awesome, & that was just the veggie burger!
Russell NZ is known as the "Hellhole of the Pacific" because it was a well known hub for its lawlessness, ex-convicts, and prostitution. Today, it's quite a charming island town that we ferried into! This area – Waitangi – was also where the treaty settlement was signed in 1840, a very significant event, marked by Waitangi Day to commemorate that signing.
Brad also convinced me to try Mountainbiking, so we did a loop on some regional roads, and then liked it enough to spend another day doing it in a mountainbiking park. It was thrilling for us prairie folk and sure enough, we each took a spill. 🙂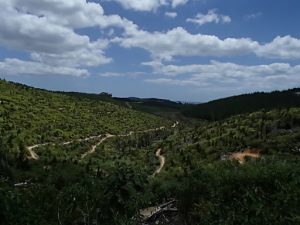 Cycle trails
To close off, a view from a Brad: "Mmmmmmm… geothermal corn" (about corn cooked in one of the pools!)