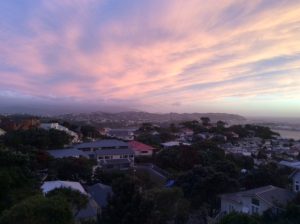 The view from our Wellington living room
A very Welly Christmas to you!
We've been in Wellington, the windy capital of New Zealand for a week now. We're housesitting 2 cats for 12 days, and over Christmas itself, we were watching 3! Wellington had a bit of an earthquake yesterday, so heads up: we're fine. Not only fine, but a bit daft! It worked out so well that we were at the National museum at the time, in an exhibit with strobe lights and special effects, so we actually thought the shaking was a part of the exhibit! We didn't know about it until I checked my email a few hours later and had a message from the people who's house we are watching! We had a few great experiences leading up to Christmas itself, one of which was staying with a great friend of mine's parents in Auckland. We had a wonderful visit, and they gave us some invaluable advice about hiking, aka "tramping" in New Zealand. "Do the Tongariro Crossing!" After 5 days in Auckland, we headed off to the Glow Worm Caves (we were caving 60 feet underground to look at worm's glowing poop. Tourists, eh?), then hitched to National Park township which is very close to the Tongariro Crossing, the best one day hike in New Zealand. After some good chats with the 3 different cars that picked us up (2 from the UK, 1 from Germany, 2 Maori), we got to our destination only to run into a friend (Lawrence) we had gone mountain biking with in Paihia the week before! Lawrence's excitement for the 19.5 km hike, and Brad's carefully crafted campaign using the power of suggestion meant that I was eventually convinced and we jumped on the bandwagon (literally, a 2 car convoy) to go to the hot springs that night, then get up at 4:30 the next morning to climb some mountains. Brad and I got a head start, the first to get dropped off. For the first hour or so, we and 3 others were the only people in sight, as the dawn rose and the Lord of the Rings landscapes unfolded. It was awesome – and cold. Mitts, toques, hoods, the works.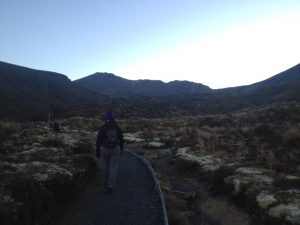 The trails are well maintained, and there are good markers to show what kilometer you're at. At one point, there's a sign encouraging you to TURN BACK NOW if you're not dressed well enough, don't have the physical ability, etc. There was also a sign explaining what to do/watch for if there's volcanic activity. Uh, ignorance is bliss? All of a sudden, we turned a corner and the sun hit us in the face, we're sweating hot! Okay, layers off. Then, on. then, off. Then on. Maybe just the jacket. Okay, now just the mitts and hoodie? I've never experienced that, but the Aucklanders weren't kidding about being prepared for every temperature in one day! Eventually, we emerged on what felt like the moon. Still some frost, and some parts that were getting wet and mucky with the thaw.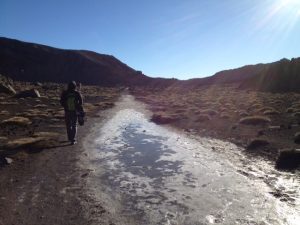 Brad on the moon
Plodding along, we thought about detouring to a nearby crater, but I figured there shouldn't be too many detours before we even reach the summit. Libby's hiking safety tip: moderation and oreo cookies! A little while later:

Are you seeing double? Yes, I am on both sides of this picture… hahaha a little tourist trick on ye aul' panorama shot! But this is really what we were looking at- fresh view on the left, and "moon land" on the right.
After this part, it was very steep, with chains going up the side of the mountain to help pull yourself up as necessary. Fortunately, the map is pretty clear about distances and times for each leg so we knew that would be the final push to get to the summit, which, of course, when reached has options for ADDITIONAL HIKES. Hah. The rest of our group caught up with us at the summit, so with a sigh of relief (me), Brad went off with them to add another 1.5 hours to the trip. I volunteered to slooowly carry on so they could catch up with me later. Lawrence and another guy literally hiked Mount Doom from Lord of the Rings, a 3-6 hour detour that was a "free trail". Free trail is also known as: blaze your own path up a volcanic mountain and yell down to the people below you when rocks are falling down their way, while dodging what's falling your way. So, carry on carry on- Brad kept the Oreos but I maintained a healthy morale somehow. Perhaps explained by the next pictures. Walking down to the Emerald Lakes was tough. Lava rocks have a very loose texture so I was digging my heels in and toes out to keep a grip.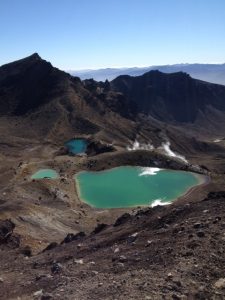 After the Emerald lakes, there was a "Blue Lake" which was also a sight! I had the pleasure to see a helicopter land here full of tourists (cheaters…), snap some pics and take off. Charming.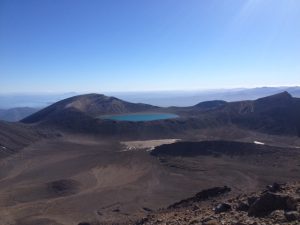 Blue Lake from Brad's view on the extra trail
Onwards and up and downwards, I also got to enjoy watching kids seize a patch of snow on the mountainside and turn it into a raging snowball fight- literally ending in them getting fuming mad at each other. Hilarious. On this side of the mountain, it was much warmer (down to my second last layer!), and I started to notice living things like flies, different plants, and my first patch of flowers for the day. It opened to a gorgeous valley with Lake Taupo in the distance, and steam coming from geothermal activity on the right and left of the below pic, almost like it is cloud. Wild.

Brad eventually caught up with me, in time for lunch and changing into lighter clothes. Mostly on the downhill, the landscape kept getting more and more lush and tall (not a tree for most of the day until then) until we were finally in a wooded forest that took us to the enchanted car park, with Gandalf and Frodo high fiving us. All that excitement followed by great difficulty hitching a ride back to the township and we landed up with over 30 km clocked for the day. Yikes. All in all, the most amazing hike I've ever done. View from a Brad: Glow worms sound better than glow maggots. Glow maggots sound better than glow feces.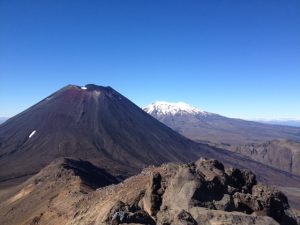 Another of Brad's from the Summit hike.