…And wild it was!
The storm I mentioned in my last post was indeed a doozy… so much so that it shut down the highways going out of Greymouth, a fact that we didn't realize until much later the next day.
Why were we so blissfully ignorant? Well, the sun was out after the storm, of course! We even went on a walk around the bay and gawked at the flooding in the area: water had surpassed the dykes and filled peoples lawns, and entire parks. It didn't occur to us that something may have also happened on the highway, until the backpackers was fully booked and someone mentioned being turned back at the highway north. Uh oh… what did that mean for our next stop?
A "large slip" (aka landslide) happened precisely between where we were and just before the town we were headed, called Arthur's Pass. Eep- It would have helped to know that before 8:00 pm! We called the backpackers to see if we could cancel, to which he responded:
"Of COURSE. It would take a biblical MIRACLE for this road to open up by the time you're meant to be here!"
He was quite excited about the whole thing.
Although we quite liked the gold rush town Greymouth, we had already switched gears to move on to the next stop (by that, I mean I folded my clothes…), and wanted to check out some of the inland regions of the South Island. With a look at the map and what would likely be open the next day, we picked Reefton which meant we were backtracking North, but still crossed the country on a scenic route.
Reefton
Arrival in Reefton was sunny so we seized the opportunity and went on a hike looping through a few different pathways, eventually 16km! Good thing we did, because more rain followed us soon thereafter. Of course, we find that we always meet people doing one of the two:
A) Crazier travel plans (i.e. When we hiked Tongariro and felt like rockstars, we then met someone who was hiking 25-30 km DAILY from the northernmost point of New Zealand to the Southernmost point).
Or
B) Worse luck with the weather (i.e. In Reefton, we met 2 German guys who were on their 7th day straight of travelling in the rain… on their bikes!)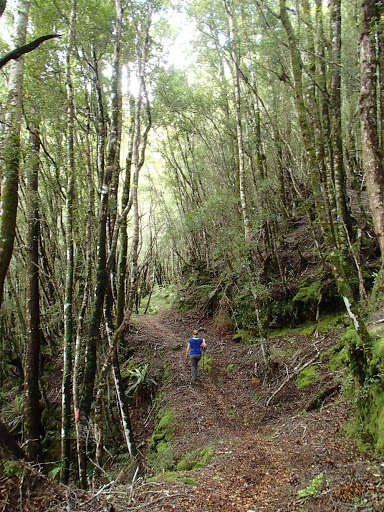 Kaiapoi
I digress. From Reefton we carried on (in the rain) to Kaiapoi, a subdivision of Christchurch where we met our local hosts Gail and Roger- longtime friends of my Aunt Val when she had visited New Zealand many years ago. It was a great wee visit with them, Roger even took us out to Akaroa which is a coastal town that was actually colonized by the French. A rarity here in New Zealand, and strange to see so many French flags and influence in the names of businesses etc.
Christchurch (aka ChCh)
A quick stopover in Christchurch, where we enjoyed the Buskers Festival and also picked up tickets to a stand up comedy night which was hilarious, featuring comedians from NZ, Australia and South Africa. Jokes were here and there indicative of the earthquake Christchurch had in 2011, but also of the city's resiliency. Christchurch is still very much under construction and it is a sight to see with modern buildings being built, older ones covered in scaffolding, and many waiting to be demolished. The art gallery also reflects this change, featuring themes of instability but also re-invention. The central mall is built of layered shipping containers, with food stalls and alleyways that are pedestrian only.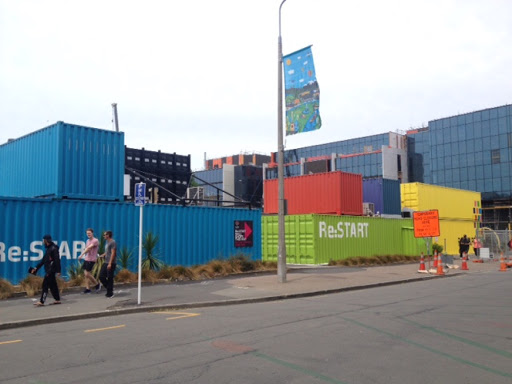 Dunedin
Next up, we were intended for 9 Days in New Zealand's first city, so contains a lot of the country's firsts, including the university, botanic garden, daily newspaper. It also has a bit of a European flair, as Brad and I walked around it made us think of Glasgow, and we did find out later that the name Dunedin comes from 'the hill of Edin' in Edinburgh, so we weren't far off!
We had a ball in Dunedin, and splurged a little by renting a car for 24 hours to visit the Albatross Colony and see if we could spot some yellow-eyed penguins in the wild. Success! Added bonus: Sea Lions. Back in town, Brad also drove up the world's steepest street, much to the delight of the 30 tourists on foot taking pictures of him!
Middlemarch, Cromwell, Queenstown
We did decide to cut it shorter than the full 9 days in Dunedin when we heard about a rail line we could take inland and mosey our way through some smaller towns: Cromwell and Middlemarch. Below is one of the shots from the Taeri Gorge Railway. We were happy to have taken this route… Cromwell is in wine country, and Middlemarch was the smallest community we visited- only 300 people live there.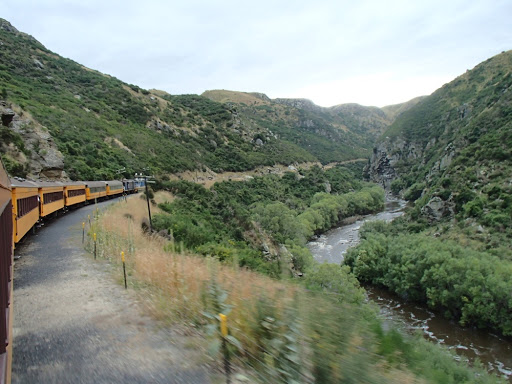 We're now in Queenstown, which I am starting to think is the "deja vu" city instead of the Adventure City- most tourists start in Auckland and finish in Queenstown, so we're repeatedly seeing the same buskers and backpackers we've seen elsewhere. Queenstown is your typical mountain city (think Whistler or Banff)- In the summer, visitors can outnumber locals 3 to 1!
We will be flying out from here, but not until later this week. First, we'll hike MIlford Sound.
Milford Sound will be 53 km over 4 days, and is basically climbing and descending over one big mountain of 3000 feet. This all sounds okay, (aside from the thought of a 6 hour gradual but constant climb on Tuesday), but Milford is also known for a whole lot of rain. One of the wettest places in the world, 182 of 365 days of the year is rain, rain, rain.
This time around, we might win the sweepstakes for the craziest plan:
We'll get back to Queenstown (sore, soaked, & having to return gear rentals) at 8:00 pm the 9th, and leave for Hong Kong at 9:30 the next morning. Oops.
Wish us luck!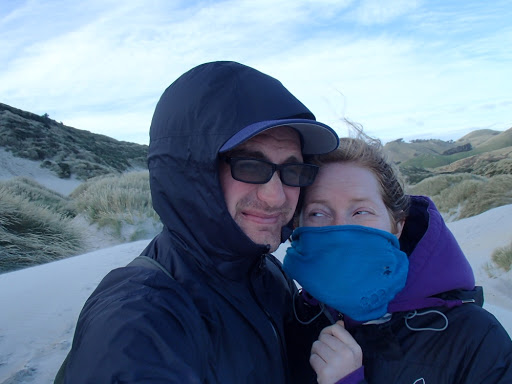 View from a Brad: Here is a sentence you could hear in NZ. "Boy racers need to be careful of mufties or else Crusher Collins could destroy their car."
I will translate this:
Boy racers = young men who have "flash" (fancy) cars that race and generally drive them like idiots.
Muftie = An unmarked police car
Crusher Collins – AKA Judith Collins is a politician that earned the nick name Crusher by bringing in a law that if you get caught racing, you car is impounded and crushed!!!